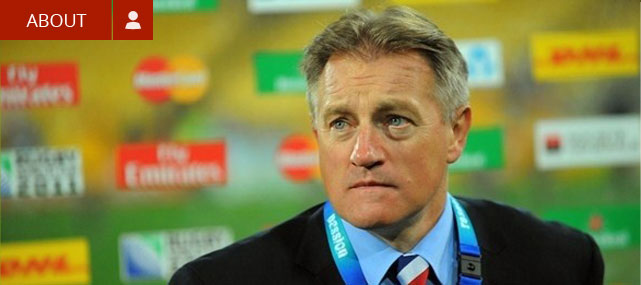 Before taking over as Head Coach to the US Eagles in March of 2009, Eddie O'Sullivan was Head Coach to the Irish National team for over six and a half years. As the longest serving Irish coach in history he won 50 tests in that period and accumulated a win record of 64%. During that period Ireland defeated both Australia and South Africa on two occasions and England on four consecutive occasions between 2004 and 2007.
Under O'Sullivan's tenure Ireland won 3 Triple Crowns in a 4 year period, was runner-up in the 6 Nations Championship on 4 occasions and reached 3rd in the IRB rankings in 2003 and 2006, the highest every ranking for Ireland. He also served as assistant coach on the 2005 British & Irish Lions Tour to New Zealand.
He graduated from the University of Limerick with an honours degree in Mathematics and Physical Education. He played rugby for the Garryowen Club in Limerick and Munster and also represented Ireland at "A" level.
During the past 25 years he has coached at all levels of the game. From mini-rugby, high school and up to Under-21 international level, leading Ireland to their first Triple Crown in history at U-21 level 1995. He has also coached Blackrock College, Galwegians and Buccaneers at club level and Connacht at provincial level in.
From 1997 – 1999 he worked as Assistant Coach to the US Eagles and was also the Technical Director for USA Rugby at that time.
After finishing his tenure with Ireland in 2008 he was appointed as Head Coach to the US Eagles in March 2009. Since his appointment the Eagles qualified for Rugby World Cup 2011 and climbed 4 places to reach 15th in the IRB Rankings in 2010.
O'Sullivan led the USA Eagles to Rugby World Cup 2011 in New Zealand where they defeated Russia. It was his 5th appearance as coach at a Rugby World Cup.